London: A History in Maps (Hardcover)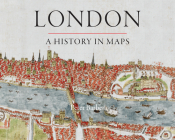 $45.00
Email or call for price.
Description
---
Over the past two thousand years London has developed from a small town, fitting snugly within its walls, into one of the world's largest and most dynamic cities. This beautifully illustrated book charts that growth and the city's transformation through hundreds of maps culled from the collection of the British Library's Map Library.  These visual records range from sweeping images of the entire city to nuanced studies of its elements and neighborhoods. Including official documents, individual endeavors, hand-drawn renditions, and technologically advanced replicas, these maps represent a variety of perspectives. Utilitarian maps show the city as it is and serve to elucidate its inner workings, while carefully wrought plans show the city as it was envisioned—whether those plans were executed or not. The maps and panoramas collected here are more than topographical records. They all convey unique insight into the concerns, assumptions, ambitions, and prejudices of Londoners at the time the maps were created. In addition to offering readers a tour of London past and present, this book reveals the inside story of the creation, growth, and change of one of the world's greatest cities.
About the Author
---
Peter Barber is head of map collections at the British Library.
Praise For…
---
"[E]ndlessly absorbing. . . . [A] skillful balance between the city's shape-shifting actuality and the various fantasies, cherished by everybody from Christopher Wren to the Luftwaffe, of what the place, with a few crucial tweaks, might become."
— Times Literary Supplement

"With each page, we witness London's horizontal and vertical expansion. The collected work of London's cartographers shows urban mass as a living entity, pushing forever outward. In its entirety, Mr. Barber's book captures this energy and sense of organic growth. . . . This is a coffee table book that deserves to be read and studied. . . . [A] beautiful and engaging book."
— Darren Richard Carlaw

"Highly recommended."
— W. S. Rodner, Tidewater Community College

"Creatively designed and copiously illustrated, this beautiful and informative coffee table publication replicates an exhibition that was displayed at the British Library from November 2006 to March 2007. . . . This handsome publication will be a delightful and useful resource for a variety of audiences, including the general public; map collectors and bibliophiles; local and urban historians; and scholars interested in historical geography, urban geography and planning, and the history of cartography."
— Ronald E. Grim, Boston Public Library

"The entire volume exceeds the author's expressed aspirations to present an honest and inclusive representation of London. I particularly appreciated the author's perspectives on the history of mapping, which includes analysis and documentation of the highly selective nature of maps and mapping throughout history. The analysis of the motives of cartographers and publishers in particular is outstanding, being something few other books of this type include and a worthwhile addition to any publication discussing the history of cartography."
— Patti Day, University of Wisconsin–Milwaukee