Flip-o-saurus (Board book)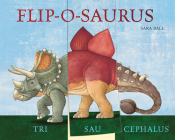 $16.95

Usually Ships in 1-5 Days
Description
---
Mix and match the heads, bodies, and tails of different dinosaurs to create your own prehistoric beasts!
This interactive board book lets you mix up the heads, bodies, and tails of ten real dinosaurs in order to create a thousand different imaginary ones, like the Stegodocus, the Oviplosaurus, or the Diploraptops. Each flap features a fun fact about the dinosaur, so you can figure out how your
Flip-o-saurus
would behave. There's also a handy chart that shows the relative sizes of the ten dinosaurs that make up the "ingredients" of your new creature, and gives the meaning and pronunciation of their names. The charming illustrations and sturdy die-cut pages will provide lots of mix-and-match fun for any young dino fan.
About the Author
---
Sara Ball is a prolific illustrator of children's books, including Abbeville's Mix-a-Mutt, Flip-o-saurus, Flip-a-Feather, and Flip-o-storic.
Praise For…
---
Gr 1-3–Moments of entertainment may be provided by this oversize, cut-page gallery that invites children to mix and match the heads, bodies, and tails of 10 dinosaurs. Brief descriptive comments at the base of each flap offer further opportunity for hilarity: the "Diplo-Thyo-Ryx," for instance, announces that "My neck is twenty feet long," "I live in the ocean," and "My long, bony tail is covered in colorful feathers." Printed on heavy card stock, Ball's painted portraits are big and bright enough to draw even younger children–but the appeal will be strictly ephemeral and next to the oldie but goodie Dinosaur Mix-Up (Starlight Editions, 1990), the number of possible choices here is downright paltry.
— School Library Journal

The simple but clever design of this book splits each cardboard page into three segments, chopping 10 different dinosaurs into fronts, middles, and backs to be mixed and matched at will. Their names and attributes also get divided up (e.g., ending in "-tops" means a creature would have a "short, heavy tail"), but this should be taken more as ways to come up with wacky-sounding names than scientific insights. It's hard not to foresee dino-crazy kids having oodles of fun with this book, arguing endlessly over the relative merits of the Diplooptesaurus versus the Tyrannoploryx. Grades 1-3.


— Booklist