Purity: A Novel (CD-Audio)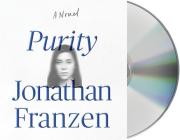 $49.99
Email or call for price.
Description
---
NEW YORK TIMES BESTSELLER
A NEW YORK TIMES BOOK REVIEW Notable Book

"So funny, so sage and above all so incandescently intelligent" (The Chicago Tribune), the New York Times bestseller Purity is a grand story of youthful idealism, extreme fidelity, and murder, a daring and penetrating book from "the most intelligent novelist of [his] generation" (The New Republic), Jonathan Franzen

Young Pip Tyler doesn't know who she is. She knows that her real name is Purity, that she's saddled with $130,000 in student debt, that she's squatting with anarchists in Oakland, and that her relationship with her mother--her only family--is hazardous. But she doesn't have a clue who her father is, why her mother chose to live as a recluse with an invented name, or how she'll ever have a normal life.

Enter the Germans. A glancing encounter with a German peace activist leads Pip to an internship in South America with The Sunlight Project, an organization that traffics in all the secrets of the world--including, Pip hopes, the secret of her origins. TSP is the brainchild of Andreas Wolf, a charismatic provocateur who rose to fame in the chaos following the fall of the Berlin Wall. Now on the lam in Bolivia, Andreas is drawn to Pip for reasons she doesn't understand, and the intensity of her response to him upends her conventional ideas of right and wrong.

Purity is a grand story of youthful idealism, extreme fidelity, and murder. The author of The Corrections and Freedom has imagined a world of vividly original characters--Californians and East Germans, good parents and bad parents, journalists and leakers--and he follows their intertwining paths through landscapes as contemporary as the omnipresent Internet and as ancient as the war between the sexes. Purity is the most daring and penetrating book yet by one of the major writers of our time.
About the Author
---
Jonathan Franzen
is the author of five novels, including
The Corrections, Freedom
, and
Crossroads
, and five works of nonfiction, most recently
Farther Away
and
The End of the End of the Earth
, all published by Farrar, Straus and Giroux. He lives in Santa Cruz, California.
Jenna Lamia is the acclaimed narrator of Mary E. Pearson's The Adoration of Jenna Fox, which won a YALSA Amazing Audiobooks for Young Adults award, and Carol Lynch Williams's The Chosen One, for which Jenna received the 2010 solo narration (female) Audie Award. 

 Lamia made her Broadway debut in 1988 in Ah, Wilderness, and she's also appeared off-Broadway in The Glory Of Living, directed by Philip Seymour Hoffman.  Her other acting credits include appearances on Oz, Law & Order: SVU, The Jury, and NYPD Blue.  She's also appeared in the films The Fighter, The Box, and Something's Wrong in Kansas.She attended Amherst College, New York University, and the Sorbonne in Paris.
Dylan Baker's first audiobook recording was for The Grapes of Wrath, which subsequently won both Audie and Earphones Awards.  He has since narrated several audio books, including Tom Wolfe's I Am Charlotte Simmons, Walter Isaacson's biography of Steve Jobs, and Michael Lewis's Flash Boys. In 2002, he won an Audie Award for Abridged Fiction for Jonathan Franzen's The Corrections. 

He has appeared in numerous films including Spider-Man 2, Spider-Man 3, Kinsey, Head of State, Thirteen Days, and Happiness.  Baker was nominated for a Tony Award for his Broadway performance in La Bete, and he won an Obie Award for his performance in the 1986 play Not About Heroes.  His television credits include guest appearances on The Practice, Law & Order, and The West Wing.  Baker earned his B.F.A. from Southern Methodist University and a Masters in Fine Arts from Yale's School of Drama. 
Robert Petkoff
has won multiple
AudioFile
Earphones awards for his acclaimed narrations. He was named Best Voice of Fiction & Classics for his reading of
The Evolution of Bruno Littlemore
by Benjamin Hale. His other narration credits include
Oath of Office
by Michael Palmer,
Gangster Squad
by Paul Lieberman, and books by David Foster Wallace.Petkoff has appeared on Broadway, Off-Broadway, and in theaters across America and Europe.  He has worked in television and film. His theater credits include Lord Evelyn Oakleigh in the Broadway production of
Anything Goes
, Perchik as part of the Tony-nomianted cast of
Fiddler on the Roof
, and Hubert Humphrey in the Tony award-winning play
All the Way.
He has also had numerous roles in television on shows such as
Law and Order
and
Married with Children.