Demystifying Shariah: What It Is, How It Works, and Why It's Not Taking Over Our Country (MP3 CD)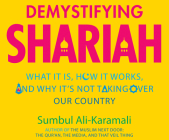 $24.99
Email or call for price.
Description
---
A Muslim American legal expert eliminates misconceptions of shariah with compassion, irony, and humor. Anti-Muslim propagandists insist through scare tactics and deliberate misinformation campaigns that shariah is an oppressive Islamic law that all Muslims must abide by. They encourage Americans to fear the takeover of shariah in our legal system. Sumbul Ali-Karamali applies her degree in Islamic law to explain shariah in an accessible narrative style--how it developed, how its various meanings provide Muslims with guidance in aspects of daily life, and how the shariah-based legal system operated for over a thousand years. She also describes why many misconceptions about shariah in our public discourse are nonsensical. In this engaging guide, Demystifying Shariah introduces the basic principles and goals of shariah, aims to settle speculation on how Muslims engage with shariah, what it has to do with today's world, and why we all--Muslims or not--need to care.